Is this you?
You'd love to learn more about how color, fit, style, and fashion could work for you. But style consultants seem so intimidatingly perfect. You're all too aware of the mistakes hanging in your closet, not to mention… well, let's just say that, like most people, there are things you'd prefer not to see when you look in the mirror. What would it take to feel comfortable and at ease getting help to make the most of your wardrobe and your appearance?
I NEVER shop without my fan deck of my colors…and I never get it wrong now…..if I could just get rid of all of the stuff that I got before I knew better!
You know that when you look good, people experience you as more attractive, appealing, and capable.
So… you want to look put together.
That means looking like the best, most authentic version of yourself – harmonious, stylish, and comfortable.
Personal Color Analysis
You'll be surprised and delighted by what you learn in your personal color analysis as we discover what colors really work for you.
We'll evaluate your eyes, skin tone, and hair color to develop a Color Fan of fabric swatches that are exactly right for you.
We'll find your best red (yes, everyone can look great in their own best red) as well as your best neutrals, whites, metallics, prints, and coordinating colors.
You'll learn what colors make you appear sincere and honest – friendly and approachable – powerful and authoritative – whatever the situations in your life require.
When you take your Personal Color Fan with you on shopping trips, you'll feel confident about selecting colors that enhance your eyes, bring vitality to your skin, and make you look terrific!
Your Style Recipe
Just like any recipe, your personal style recipe is made up of several important ingredients: who you are plus your particular physical proportions and your unique design elements. They're all equal players in the process of helping you look great – and feel authentically yourself – for any occasion.
Understanding your physical proportions means you immediately know how to set off your best features, downplay the challenges, and have fun when you get dressed in the morning.
Understanding the ways your personality, preferences, and lifestyle influence how you feel about your clothes means you'll always feel comfortable and at home – really yourself – in the outfits you select.
Your Personal Style Recipe guides you to your best clothing styles, from neckline to hemline and everything in between. It helps you select outfits that work for you, no matter what the current fashions may be.
Because it's not enough to just look good; you also want to feel good – comfortable, confident, and attractive!
Shopping Trips
If you dread shopping – or even if you enjoy it, but find yourself disappointed by what you've purchased when you get home – a personalized shopping trip is your answer. It changes your shopping experience from a frustrating struggle, choosing between an overwhelming array of options … to a focused selection of items picked out just for you.
Try on clothes that were selected for you – and are right for you – instead of having to wade through stacks of "ick" and "ugh."
Discover fun, surprising new options that really work.
Learn how minor alterations can make big improvements.
Your clothing budget will go farther, and everything you bring home will work!
Closet Audit
Wouldn't it be great to open your closet door in the morning and think… Wow. I can wear ALL of this!
Letting go of garments that don't work is a relief when you understand why they don't work.
As we create new outfits from what you already have, you'll find yourself saying "I never would have thought of putting those together" – and you'll love the results!
When we're done, you'll have a portfolio of Wardrobe Charts – complete with photos – that will help you get dressed quickly and stylishly for every occasion.
You really can have a closetful of clothes that make you smile when you open the door!
Bernie is a lifesaver!
After a three-year hiatus from my profession, I was in need of a complete wardrobe for my upcoming job. I met with Bernie for an initial consultation and personal color analysis, where I learned which colors, styles and accessories work best for me. Since I dislike shopping and am a bit fashion-challenged, we scheduled a shopping excursion and, to my amazement, Bernie coordinated an entire wardrobe, complete with accessories, effortlessly!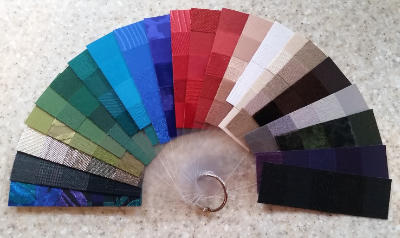 Aside from just feeling important and special by having a dedicated person shopping with me, it was endlessly informative as we looked at options and discussed what the fit, color, or pattern in the options would say. I loved every second of it. The final result was amazing and I went to my  job interview without a single concern for my appearance. I had no question that I looked perfect for the interview and that I still had my "edge."